Please copy
A picket will be placed on the Abbey Theatre tonight, Wednesday 14th April to highlight the lack of access for People with Disabilities to our National Theatre.
To those who have those who have given sterling support to me over the past week, I thank you. Let's hope this is the beginning of something new – I believe, I hope it is.
Best wishes
Paddy.
click to enlarge images. Please copy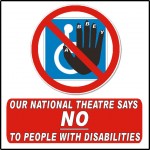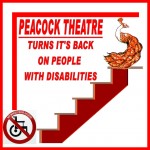 PS. I'm indebted to A.B. for his help in the making of these posters just as I'm indebted to others who have lent their support in various ways. Many thanks to you all.
14 Responses to "Another night NOT at the Theatre"