Rare condition could hold proof to Paddy's real identity.
Following his death, John Murphy left Paddy a number of photographs including one of him as a young boy in a pushchair with his mother.
Paddy Doyle is a native Wexford man born at the County Hospital in 1951 who lived for the first four years of his life in a small cottage in Ballymore, Killinick which still stands and is occupied by new owners.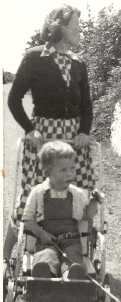 A black and white photograph from the early 1950's shows him being wheeled in a pushchair by his mother. It is the kind of picture you'll see in every Irish family album.
The small Wexford boy's life was to take a tragic turn less than two years later when his mother, Lil, died of breast cancer. Six weeks later, his 'father' Paddy, hung himself in the haggard at the back of the house.
It is likely that the boy witnessed the hanging and was found several hours after the estimated time of death, wandering around in a distressed state.
During his childhood, Paddy Doyle was haunted by dreams and images of a man hanging but didn't know why. He was 35 years old and married with children himself when, through his own exhaustive research, he discovered who his parents were.
Now he believes his conclusions were incorrect and that Paddy Doyle, the man who committed suicide, was not, in fact, his biological father. He is appealing for anyone who may have information about his true origins to come forward and help him.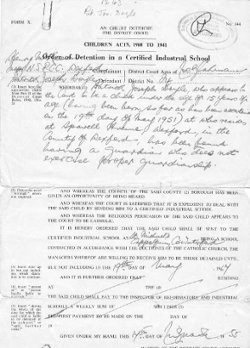 [click on picture to enlarge]When he was four years and three months old he was brought to court in Wexford following his father's death and charged with 'not being in possession of a proper guardian'.
He was sentenced to be detained for eleven years in an Industrial School, served four years, and spent the remaining time in hospital after developing an extreme form of a rare genetic condition which he now knows to be 'Dystonia' and which began with a painful twisting of his foot when he was about seven.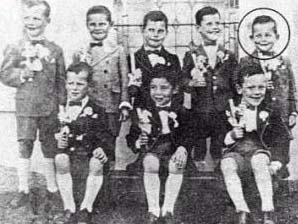 It was following his marriage to a paediatric nurse and some years after the birth of his third son, that he received a diagnosis, although, unknown to him there was a much earlier reference to the illness on his childhood medical records, most of which were destroyed.
By the age of ten he was permanently disabled. During his time in hospital, in the constant company of old and dying men, he underwent at least eight brain surgery operations as doctors attempted to diagnose and correct the condition.
No consent seemed to be required or sought since he was a ward of the State.
He and his wife, Eileen, have carried out their own research into 'Dystonia' over several years and in a fascinating twist of fate, it is this rare condition which may now hold the proof to Paddy Doyle's true identity.
Author and disability activist, Paddy Doyle retains an affinity for Wexford despite the bad memories of his childhood.
He has visited the area many times over the years searching for information about his family and has not rule out the possibility off one day buying a property locally.
During holiday visits from the Industrial School to an 'aunt' in Spafield Avenue in Wexford town he served mass in all the local churches.
To his knowledge, he has no living relatives in the area, the last of his mother's family, John Murphy, having died in St. John's Hospital, Enniscorthy a few years ago.
He visited him in St. John's in the 1980's but was unable to get much information out of him about the circumstances surrounding his parents' deaths or his own early life.
Paddy and his wife attended Mr. Murphy's funeral and at the burial in Ballymore cemetery made further enquiries about the resting place of his 'father', Paddy Doyle, who is believed to be buried in the same graveyard.
Following his death, John Murphy left Paddy a number of photographs including one of him as a young boy in a pushchair with his mother.
After Publication of The God Squad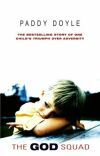 Writing a book involves a lot of research. The author has to be certain that all of the materials he or she intends to include in their work is accurate and true in so far as that is possible. Once all the research work is done, particularly on legal documentation, it is relatively easy to transcribe. All of the transcribed information involved carries the signature of solicitors/lawyers and the Gardai (Irish Police force) as well as the names and stamp of the local clergyman. These people are regarded as "pillars of society". Surely they wouldn't put their names to anything they knew to be less than true – would they?