By Breda Heffernan
Thursday March 18 2010
"I will never directly or indirectly, by means of a nod, or of a word, by writing, or in any other way, and under whatever type of pretext, even for the most urgent and most serious cause (even) for the purpose of a greater good, commit anything against this fidelity to the secret, unless a…dispensation has been expressly given to me by the Supreme Pontiff."

THIS is the oath of secrecy the child victims of paedophile priest Brendan Smyth were told to sign during their meetings with Cardinal Sean Brady 35 years ago.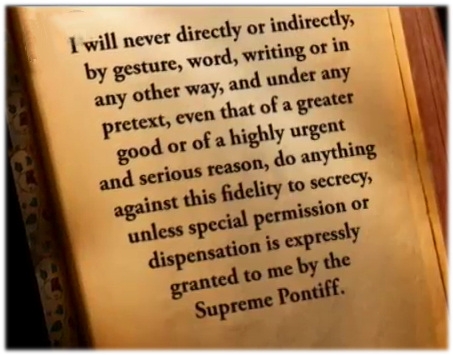 Crimen Solicitationis, the Latin for 'Crime of Solicitation', is a secret 1962 Vatican document which only came to light in recent years. It instructed bishops how to handle allegations of sex abuse against priests in their diocese and set out an oath of secrecy.
All those involved in the 1975 investigation into Smyth, Cardinal Brady — then a 36-year-old priest — the children who had been abused and Smyth himself, were required to sign the oath. To break the vow would lead to excommunication from the Catholic Church. The document was written by Cardinal Alfredo Ottaviani, then prefect of the Congregation for the Doctrine of the Faith, previously known as the Inquisition.
It was only to be circulated among bishops and it demanded that all parties to an investigation keep a "perpetual silence".
Scripted in dense legal language, the document sets out the steps to be taken for investigating crimes of solicitation against priests.
Once the tribunal has reached its conclusion, it lays out a number of different courses. If there is no foundation to the allegations, all documents relating to the accusation must be destroyed.
If it is not possible to determine if a crime has occurred, the documents should be stored in the diocesan archives to be re-opened if another allegation is made in the future.
Morals
Should the tribunal find there are "indications of a crime serious enough but not yet sufficient to institute an accusatorial process", a check should be kept on the "morals" of the priest.
In the event where it is certain the priest has offended, he is tried under canon law.
Since its unearthing in 2003, opinion has been split on whether the document provides the "smoking gun" to prove there was a conspiracy by the Vatican to cover-up the problem of paedophile priests.
The Irish Bishops' Conference last week said the document had been consistently misrepresented in the media and that it was never the intention of the oath to prevent victims from reporting crimes to the civil authorities.
One canon lawyer has said an oath of secrecy is not unusual in church investigations and is not specific to sex abuse cases. And although those taking part in the investigation are required to remain silent while it is being carried out, they can report the abuse to police before this.
However Paddy Doyle, author of 'The God Squad' and a survivor of institutional abuse, last night described the oath of secrecy as "chilling".
"It's tough enough to read it as an adult because of the language that is used, never mind putting that to a terrified child. How are they supposed to understand that?
"My first reaction is absolute disgust, it has to be some sort of criminal offence. In effect, what you are doing is… the bishops and priests are dragging children into becoming criminals by making them collude," he told the Irish Independent.

– Breda Heffernan
Irish Independent
27 Responses to "Revealed: the oath Brady, Smyth and the children swore"