Maria Pepper talks to Paddy Doyle, whose horrific childhood led to a search for the truth about his past
YOU CAN understand why some people might wish Paddy Doyle would stop asking questions and just let it go.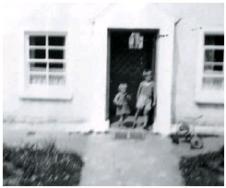 The God Squad author, who was born in Wexford, has been searching for 20 years to find the burial place of his mother, Lil, so he can place a daffodil on her grave.
He also wants to solve a mystery about the identity of his father after spending more than half his life believing it was his mother's husband Paddy.
He keeps asking awkward questions about the past. There have been no definite answers in two decades but he won't give up.
He doesn't want closure. He hates that word. But he seems to be driven by an irrepressible urge to slot the missing pieces of his personal jigsaw into place.
The puzzle is almost complete but he just can't nail those two remaining clues. He may never find them but he is going to keep looking on the off-chance that he does.
At the centre of his search is the heartbreaking story of a little boy who was born in Wexford Hospital in 1951 and lived in a cottage in Ballymore with his parents, Lil and Paddy, and later his sister Ann.
He was happy and well cared for, as evidenced by black and white photos left to him by his uncle John Murphy, his mother's brother, following his death.
In the summer of 1955, when the boy was four and his sister two, their mother died from breast cancer at the age of 43. Five weeks later, her husband Paddy hanged himself from a tree in the back garden.
According to the inquest report from that time, the two children witnessed the horrific episode and remained alone in the house for several hours until someone came.
When he was four years and three months old, he was brought to court in Wexford and charged with 'not being in possession of a proper guardian'. He was sentenced to be detained in an industrial school in Cappoquin for 11 years.
He 'served' four years in the school but spent much of the remaining time in hospitals around the country after developing a condition called dystonia which causes severe contraction and twisting of the muscles in the body.
He was subjected to brain surgery on several occasions and may have been the victim of medical experimentation. Metal screws and bolts were inserted in his head.
By the age of 10, the boy was permanently disabled and confined to a wheelchair.
That boy was Paddy Doyle and when the adult man in the wheelchair thinks about him now, he sees the able-bodied child pictured in the tragic garden of a rural cottage as someone separate from himself.
'The only way I can handle any of it is to move back from it' he says in his Dublin accent. 'I am a person looking for someone's mother. That protects you. That is a sort of armour you put on.'
The little boy, who frequently suffered physical abuse in Cappoquin, especially when he told his big story about seeing someone hanging, grew up to be a man who used words and humour as defence mechanisms.
In the early 1970s he met his wife, Eileen, a paediatric nurse, at the National Ballroom in Dublin. The bouncers nearly didn't let him in that night because they said he would be a fire hazard.
He remembers the retort he gave as one of his finest moments of verbal retaliation. 'I can cope with disability but the idea of spontaneously combusting – I couldn't handle that,' he told them.
The couple had three sons, Shane (34), Niall (33) and Ronan (29), whose privacy Paddy is keen to protect as a matter of family policy. The campaign to highlight the damage caused by institutionalised child-abuse in Ireland is his battle, not theirs.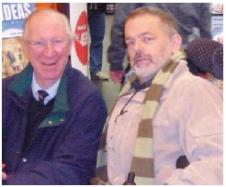 They also have two grandchildren, Seán (8) and Adam (4). He got a job with CIE when he was 21 and later became involved in disability development work. He worked on projects in UCD and Trinity College. In the early 1990s, he travelled to America as a guest of the US ambassador to view disability services there. He worked as a scriptwriter for RTÉ on a Saturday children's programme called Pago's Junkbox.
Later, he hosted writing workshops for prisoners in Mountjoy Prison and St. Patrick's Institution, and also for socially deprived children.
He then joined the Rehabilitation Institute and continued working there until his retirement a few years ago.
He doesn't have a day job anymore but he is involved in the child abuse campaign and was appointed by Minister for Education Batt O'Keeffe to a committee which is drawing up plans for a memorial honouring the victims of institutional abuse.
When he sat down to write the God Squad which was published in 1988, he said to his computer, 'I'm going to tell you a story.' The book, which was one of the first personal testimonies written about State child abuse in Ireland, became a best seller. Paddy became a celebrity of sorts and was interviewed by Gay Byrne on the Late Late. Now, when he tries to tell his grandson Seán that he's famous, the disbelieving eightyear-old says: 'If you were famous, you'd be really rich.'
Many people congratulated him on writing the book, but he also received anonymous letters from Wexford telling him that what he had written was wrong. This is when he was first informed that the man who hanged himself wasn't his biological father and that his father was, in fact, another local man who has since died.
Paddy visited Wexford many times and attempted to establish the truth but says that the community he spent the first four years of his life in 'brought down the shutters'.
He felt that he was causing trouble by raking up the past. Paddy refers to the era of his childhood as the 'hidden Ireland' and though many of its dark secrets have been exposed in recent years, he can't help feeling there is still a lingering complicity of guilty silence.
He has never been able to find his mother's grave although Paddy Doyle, the man who may or may not have been his father, is buried in Ballymore cemetery, and both their deaths are listed in parish records.
It may be that there is no one alive now who can help him prove his father's identity.
An RTÉ documentary 'Flesh and Blood', which was broadcast last month, attempted unravel the mystery of Paddy and his sister Ann's parentage, but reached no conclusions.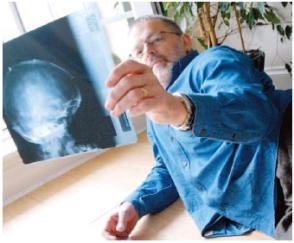 Despite a claim by local man Jim Power of Thornville that their father was an individual known to him at the time, the only categorical outcome of the programme was that DNA testing showed Paddy and Ann to be full brother and sister.
Paddy, whose maternal grandparents came from Spawell Road in Wexford, was born 16 years after Paddy and Lil Murphy got married. Ann was born two years later.
The documentary gave a harrowing insight into the inhumane treatment of vulnerable Irish children in the 1950s and the lasting emotional and physical damage that was inflicted on them.
Despite everything that has happened to him, Paddy is not angry. 'It's a pointless exercise. If you could target it at someone or something, it might be worthwhile, but if you're just blasting away, it's self-destructive. I'm a great believer in what I call constructive anger. Otherwise, it's like pointing a gun to try to kill someone but you don't know who you're trying to kill.'
He gets annoyed when people say that he has managed to accept his disability. He doesn't know anyone who would willingly accept a headache but if someone has a disability, people are eager to hear the immortal word 'acceptance'.
He is on large daily amounts of prescibed medication for his condition but is in favour of the legalisation of medical-supervised marijuana use in Ireland, an issue he has campaigned on.
'I'm a legal drug addict. I'm on lots of medication, all prescribed by doctors, but it's highly addictive stuff.'
In relation to Ireland's child abuse scandal, he says people would love to be able to say all that happened years ago and doesn't go on now.
'The Ryan Report covered cases that happened up to the early 1990s. Wherever you have vulnerable people you will have predators. You had recent revelations about abuse of disabled people in residential homes'.
Something in Paddy Doyle's make-up helped him survive a horrific childhood and come out shouting – but he doesn't try to analyse what it is.
He says he has no interest in spirituality and if he could bottle the answer to the question of how he coped with the emotional and physical brutality of his early life, he would do so and he would give it to people for free.
'It's one of the questions I've been asked but I don't have the answer. Something drives you. There are times when I almost weep with despair and say oh, feck it, I'll leave it so. It would be easier to walk away but because it's part of what you are, you don't give up. I think it's a natural, almost animal instinct to want to know who you are.'
–
15 Responses to "Still looking for answers"